Bay State Residents' Belief in Global Warming Remains High
A majority of Massachusetts residents continue to believe that global warming has been happening, according to a new survey released by the MassINC Polling Group (MPG).  This sentiment has gone largely unchanged in the year since The MassINC Polling Group began tracking this question. These results are also in line with a survey conducted by Stanford University which reported that 84% of Massachusetts residents believe global warming has been happening. You may have heard about the idea that the world's temperature has been going up slowly over the past 100 years. Do you think this has probably been happening or has probably NOT been happening?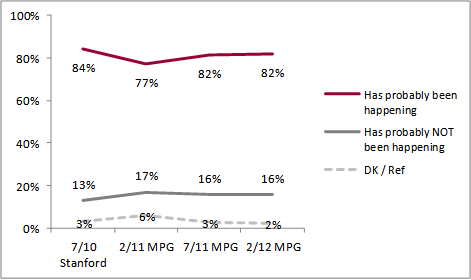 About the Poll: The MassPulse Quarterly Poll is conducted quarterly among representative samples of 500 Massachusetts residents age 18 and older.  The poll is conducted in English and Spanish among both cell phone and landline households using conventional random digit dial (RDD) sampling methods.  This iteration of the survey was conducted from January 25-29, 2012. The margin of sampling error is 4.4%.